Toady we have a guest post from a non-fiction historical writer, who has been researching women's sport. Welcome, Louise!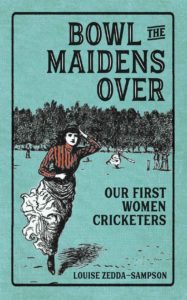 There's been a lot in the media recently around sexism and equality, rights and fairness. Many of these instances are visibly being played out right now in state and federal parliaments, and some are being played out in other sectors as well. It's like we are being directed to look at equality in the workplace and in our environment, and to ask – Hang on, is that right? Is it fair?
An area where there's a bright spotlight on inequality is women's sport. Looking through the annals of Australian history (and even world history), we see the right to play and to be acknowledged as sports women – especially in the traditionally 'manly' sports – has been a long and hard-fought battle. If we consider women's sport in the broader context of women's rights, it tells an interesting story.
My book Bowl the Maidens Over: Our First Women Cricketers was released in June 2021. It's a book that details the struggles and criticism the women cricketers endured in 1874 when they played a competitive game in Bendigo, Victoria as a charity match to support the local hospital and asylum.
I didn't realise at the time of writing, but the book is a reflection of women's sport as it stands today – where women are ridiculed, undervalued and questioned for their contributions. There is still inequality when it comes to opportunities to play, renumeration, and game coverage in the media. Although, it is great to see more and more organisations advocating for equality.
Although, not everyone in the world is moving forward at the same pace. Afghanistan's ruling Taliban government recently announced earlier this month that Afghan women would not be allowed to play sports.
Mr Ahmadullah Wasiq, the deputy head of the Taliban's cultural commission, made the following statements:
I don't think women will be allowed to play cricket because it is not necessary that women should play cricket.
In cricket, they might face a situation where their face and body will not be covered. Islam does not allow women to be seen like this.
For context, twenty-five female cricketers were awarded contracts by Afghanistan's Cricket Board in November last year. Afghanistan also has a women's soccer and football team, although reports have said many female players are now fleeing to other counties or in hiding, fearful for their lives.
Have we progressed?
In the late 1800s, the lady players encountered the following responses to the cricket match:
Unseemly exhibition
Unfeminine
Frisky matrons and forward spinsters
And…
A display of feminine vanity, frivolity and coquetry, inspired by the greed of admiration and of notoriety, and speciously disguised in the cloak of Heaven-born charity?
In 1874, where the women where ridiculed and encouraged not to return to the field – even though they did in 1875 – there was little to support them other than their local community. The wrath had come strongly from neighbouring regions, and most definitely from several of the Melbourne papers. Outside of Victoria in the other Australian states and around the world, the game was reported favourably, and not with criticism. But, no organisation stepped in to support, and each state had well-established cricketing organisations at this time. For example, English cricket teams (men's) had already travelled to Australia to play.
In Australia in 2021, however, things are different.
Cricket Australia released the following statement on 9 September:
Driving the growth of women's cricket globally is incredibly important to Cricket Australia. Our vision for cricket is that it is a sport for all and we support the game unequivocally for women at every level.
If recent media reports that women's cricket will not be supported in Afghanistan are substantiated, Cricket Australia would have no alternative but to not host Afghanistan for the proposed Test Match due to be played in Hobart.
We thank the Australian and Tasmanian Governments for their support on this important issue.
To which the Australian Cricketers' Association replied:
The ACA unequivocally endorses Cricket Australia's statement on the upcoming Test Match against Afghanistan.
What is happening now in Afghanistan is a human rights issue that transcends the game of cricket.
And there it is. A human rights issue. That's exactly what it was in 1874 as well.
Hamid Shinwari, CEO Afghanistan Cricket Board, posted a press release on his Facebook page stating the loss of the test could impact the continuation of cricket (for the men) in Afghanistan if other countries decided to follow Cricket Australia's example. There was no mention of the effect stopping the women's team from playing would have on the women. The point, it seems, has been ultimately lost because the women in this scenario are unimportant.
Here we are, in some parts of the world, replicating behaviours from the 1800s, with men deciding how women use their bodies, and if it's okay or not to be using them for sport. This is really not okay. Women, just as men, have a right to choose.
We are lucky in Australia. Organisations are trying to change things and are making a stand on human rights issues. There's still a way to go in lots of sectors and things may not be perfect, but there are a lot of people working to make them better – women and men – and I'm pretty thankful for that.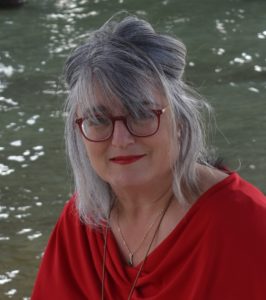 Louise Zedda-Sampson is a Melbourne-based writer, researcher and award-nominated editor. Her debut non-fiction book, Bowl the Maidens Over: Our First Women's Cricketers, recounts the story of Australia's first women's cricketers. Her non-fiction has appeared in peer-reviewed journals and magazines, her fiction in anthologies and online.
You can find out more about Louise at www.louisezeddasampson.com.au
References
'An update on the proposed Test match against Afghanistan', Cricket Australia, Twitter, 9 Sept 2021, viewed 15 Sept 2021, https://twitter.com/CricketAus/status/1435784792679747587/photo/1
'Statement on proposed Afghanistan Test.', Australian Cricketers' Association, Twitter, 9 Sept 2021, viewed 15 Sept 2021, https://twitter.com/ACA_Players/status/1435799947983478788/photo/1
'Press Release', Hamid Shinwari, Facebook, 10 Sept 2021, viewed 18 Sept 2021, https://m.facebook.com/hshinwari/posts/10160020846388714?comment_id=10160020853878714&notif_ref=m_beeper